New transplant research aims to salvage infected donated organs

Retired subway and bus driver Stanley De Freitas had just celebrated his 70th birthday when he started coughing, tiring easily and feeling short of breath. He was diagnosed with pulmonary fibrosis, a severe scarring of the lungs, and put on the wait list for a transplant.

"Life became unbearable. From the time I got up in the morning until when I went to bed at night, I struggled through every breath of air," De Freitas, now 74, told Reuters by phone from his home in Toronto.

After two years, De Freitas was offered a lung, with one significant downside: The donor had hepatitis C.

In October 2017, he became the first patient enrolled in a just published study conducted at Toronto General Hospital testing a technique that aimed to flush out and inactivate the hepatitis C virus from donor lungs before a transplant.

The research comes amid a spike in available organs linked to the opioid overdose crisis, meaning many are contaminated by hepatitis C as the virus is commonly spread by sharing needles. Since it can easily infect an organ recipient, those organs are usually discarded despite the urgent need.

Data from the United Network for Organ Sharing (UNOS), which matches donors with recipients, shows that 97 percent of people waiting for a lung in the United States last year were unwilling to accept an organ from a donor who tested positive for hepatitis C.


While hepatitis C causes serious liver disease, the virus can be present in the blood in other organs.

Researchers are testing different approaches to salvage infected organs.

A study published in April showed that giving patients antiviral therapy just hours after transplant surgery can successfully attack the virus before it gains a foothold in the recipient.

Eliminating the virus prior to transplant would simplify the procedure for patients, said UNOS Chief Medical Officer David Klassen. It could also significantly cut down on wasted donor organs.

The technique used in Toronto, known as ex vivo lung perfusion, keeps organs "alive" outside the body by pumping them with a bloodless oxygenated liquid. They used ultraviolet C light to irradiate the solution, aiming to deactivate the hepatitis C virus and make it non-infectious.

Perfusion allows doctors to evaluate and potentially rehabilitate organs for transplant, and buys them more time than storage in ice boxes, which can cause tissue damage.

Toronto researchers used a solution from Sweden's Xvivo Perfusion AB with the hospital's own ex vivo lung perfusion system, a bubble-like machine made from off-the-shelf components and an intensive care ventilator.

The study of 22 patients, published in The Lancet Respiratory Medicine on Wednesday, had mixed results. Adding light therapy significantly decreased the amount of virus, but all but two of the patients contracted hepatitis C, which is now curable.
4 of 5 Indian children do not survive cancer. What led to this sorry state?
How long does a cancer diagnosis take?

Six months, according to Bipin Jana, 45, whose eight-year-old son Parmeshwar has stage-4 Hodgkin's lymphoma. That is how long it took the family, travelling 2,000 km across West Bengal, New Delhi and finally, Mumbai, to get an effective diagnosis and start treatment.

Parmeshwar is currently undergoing chemotherapy at the Tata Memorial Hospital (TMH), Mumbai, India's foremost cancer treatment centre. Almost half (43.6 per cent) of the children with cancer admitted here had to travel over 1,300 km to reach the hospital, records showed. Up to 10 per cent travelled over 2,200 km and 20 per cent had undergone alternative or incomplete treatments before reaching TMH.

With timely diagnosis, children with cancer have a high rate of survival. If he lived in a high-income country, Parmeshwar would have had a 90 per cent chance of recovery. Since he is being treated, his odds are still better than India's national survival rate for juvenile cancers–less than 20 per cent, according to the World Health Organization.

Worldwide, most children with cancer are from low- to middle-income countries and have poor survival rates, showed the study published in The Lancet Oncology, a global journal, in July 2019.

India has the highest prevalence of childhood cancer which can be traced to its higher population of young people, 30 per cent of its population is below 14 years, according to 2011 Census.

In order to understand why most children with cancer in India do not survive five years, IndiaSpend interviewed patients, non-governmental organisations and doctors. Delays in diagnosis, high medical expenses and non-completion of treatment are significant reasons, we found.

Survival rate can be 70 per cent with timely care

About 50,000 Indian children between 0-19 years of age suffer from cancer each year, according to The Lancet study we mentioned. "However we think the actual figure is closer to 75,000," said Girish Chinnaswamy, head oncologist at the TMH.

Approximately 20,000 children remain undiagnosed and untreated and their survival rate is 0 per cent, he said. "For the 55,000 who are accessing treatment, 15,000 are receiving a good standard of treatment with trained oncologists as well as social, dietary and financial support and this group has a survival rate of 70 per cent," he said.

The other 20,000-30,000 are visiting centres with less-trained oncologists and without holistic components such as education, social support and nutrition. Their survival rate is around 30-40 per cent, said Chinnaswamy.

"The problem is that families are not accessing appropriate treatment, or they are abandoning treatment once it has started," said Anil Nair, chief executive officer of St Jude India ChildCare Centres (SJICC), which provides accommodation for parents and children undergoing cancer treatment in six cities including Mumbai.

Another factor is the high cost of treating paediatric cancers. "Unlike cancers in adults, cancers in children need a whole team of medical oncologist, radiologist, pathologist, internist etc," pointed out Shripad Banavali, director, academics and professor of paediatric and medical oncology at the TMH.

No facilities in rural areas

Nearly 70 per cent of Indian population lives in rural India. However, nearly 95 per cent of cancer-care facilities are in urban India. India has 0.98 oncologists per million population, compared to 15.39 in China, 25.63 in the Philippines and 1.14 in Iran, as IndiaSpend reported in September 2017.

Centres such as TMH offer tertiary care which means that they offer specialised medical services. So the patient is likely to go to a doctor at a primary or secondary facility for a diagnosis, then he/she is sent to the nearest big hospital for treatment and finally referred to a cancer treatment centre.

The TMH treats 2,800 children with cancer each year. However there are less than 8-10 big paediatric cancer centres in India, and almost all are located in large cities such as Mumbai, Delhi, Pune, Bengaluru, Chennai and Kolkata, as per Banavali.

"We need at least 20 big centres that treat paediatric cancer in India," he estimated. "We also need more paediatric centres and more people willing to come forward to fund treatment for children as the treatment is expensive."

Long route to treatment

Parmeshwar's own journey, starting from his village Nandigram in West Bengal's south-eastern district of Purba Medinipur, illustrates the long route to treatment for most patients in India.

Parmeshwar had a high fever–for three months–which refused to subside despite treatment. His father worked as a dishwasher in a hotel in Mumbai but had to quit to care for his son. Parmeshwar's illness was first misdiagnosed as typhoid and, then, malaria. After this the family travelled to Kolkata, where he was admitted for weeks in a hospital but got no treatment.

When nothing appeared to work, Jana brought Parmeshwar to the All India Institute of Medical Sciences (AIIMS), New Delhi, India's best-known tertiary care centre. But no vacant beds were available for the child. Parmeshwar was then sent to Safdarjung Hospital, one of the five government hospitals in the city. It was here that he was put through an ultrasound test for the first time–three months after he first fell sick.

"The hospital staff asked me what were we doing, why it took so long to start the investigations," recalled Jana. "I told them I kept telling doctors but no one listened to me." Parmeshwar was then detected with Kala Azar or visceral leishmaniasis and underwent treatment for a month but did not get any better.

The doctors at Safdarjung Hospital then conducted a biopsy and a bone marrow test. He was finally diagnosed with stage-4 Hodgkin's lymphoma. "Had I known it is cancer, I wouldn't have waited for six months for diagnosis, I would have directly come to Mumbai," said Jana, breaking down.

Parmeshwar was finally sent to TMH and the cancer treatment started in August 2019–six months after he first spiked a fever.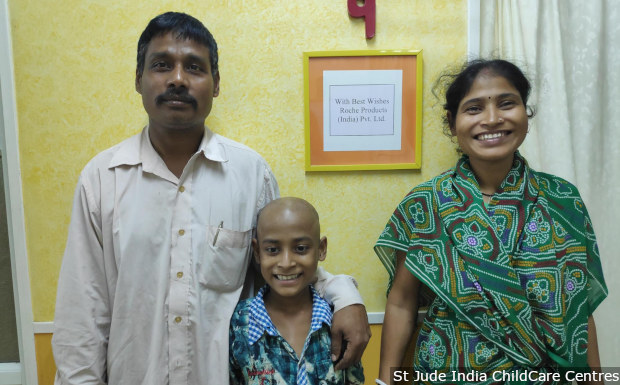 Parmeshwar, 8, with his parents Bipin and Mamata Jana, at the St Jude India ChildCare Centre in Mumbai.

"These treatments may not be sufficiently executed, which can ultimately make the cancer more resistant to treatment and as a result lengthen the process of treatment," said Chinnaswamy.

Source: Tata Memorial Hospital records accessed by IndiaSpend

Note: Data for the year 2018

"This is not a direct journey either," added Nair of St Judes. "Families have usually spent most of their money before they reach treatment, travelling from doctor to doctor and paying for different treatments before being referred."

Abandoning treatment

For children undergoing treatment, at least a third of the survival gap is due to unfinished treatment. Up to 90 per cent of children with cancer in lower middle-income countries will abandon treatment, compared to 15 per cent worldwide. It is estimated that lower middle-income countries account for 99 per cent of treatment abandonment worldwide.

Families abandon treatment to opt for traditional complementary alternative medicine (31 per cent), because of financial constraints (28 per cent), or false belief that cancer is incurable (26 per cent), found a study which analysed patients over six years at TMH.

"Just the cost of staying in Mumbai itself during treatment costs about as much as the treatment and this can force many families to head back home before treatment is finished," explained Nair of St Jude's.

Jana has spent close to Rs 1 lakh that he raised from friends and family members to pay for his son's treatment. Once in Mumbai, the family was lucky enough to find a place to stay at St Jude's. Facilities here include individual family living units, shared common kitchen and dining areas, educational and sanitary guidance for parents, and family counselling–all to give the child the best chance of beating cancer, said Nair.

Families that do not have access to facilities like this will often live on the footpath next to cancer centres for as much as two years, leaving the child vulnerable to secondary infections. Families thus survive without toilets or cooking facilities. The overall experience can leave families dejected and demoralised to the point where they often abandon treatment and return home.

"To eliminate these causes of abandonment, treatment requires a multidisciplinary team–oncologists, nutritionists, nurses, psychologists, data scientists, and social workers," said Chinnaswamy. "This is the difference between at least 50 centres in the country which have a survival rate of 70 per cent, compared to the others which have 30-40 per cent."

The introduction of social workers, financial assistance, accommodation, counselling, infection guidance control, school education for parents to the treatment process at TMH doubled the number of lives saved per year, reducing abandonment rate from 20 per cent in 2009 to 4 per cent in 2016, as well as the refusal to undertake treatment reducing from 9 per cent to 2.7 per cent, found a March 2019 study by the TMH.

While Bipin Jana is satisfied with the treatment his son has received in Mumbai, he regrets the six months wasted in getting here. "My son's life is now in God's hands," he said.
---

This story was first published here on Healthcheck.

(Habershon, a graduate from the University of Manchester, is an intern with IndiaSpend. Yadavar is a special correspondent with HealthCheck.in and IndiaSpend.)
This article is republished with permission from IndiaSpend. Read the original article here
Vitamins and omega-3 fatty acids may help children with autism

Children with autism who take supplements of vitamins and omega-3 fatty acids may have fewer symptoms than kids who don't, a research review suggests.

Researchers examined data from 27 trials involving a total of 1,028 children with autism spectrum disorder. Kids were randomly selected to take various dietary supplements, including vitamins or omega-3s, or to take a dummy pill instead.

Omega-3s and vitamin supplements were more effective than the placebo pill at improving several symptoms, functions, and clinical domains, researchers report in Pediatrics. Gains varied in the trials but included improved language and social skills, reduced repetitive behaviours, improved attention, less irritability and behaviour difficulties, and better sleep and communication.


"These results suggest that some dietary interventions could play a role in the clinical management of some areas of dysfunction specific to ASD," said David Fraguas, lead author of the study and a researcher at Hospital General Universitario Gregorio Maranon and Universidad Complutense de Madrid in Spain.


Even though the analysis was based on controlled experiments — the gold standard for testing the effectiveness of medical interventions — the individual studies were too varied in what supplements they tested and how they measured results to draw any broad conclusions about what type or amount of supplements might be ideal for children with autism, researchers note in Pediatrics.


"The underlying mechanisms involved in the potential efficacy of dietary interventions in autism spectrum disorder are unknown, Fraguas said by email. "Our study does not assess this important question and current literature is inconclusive."

reuters
Depression, anxiety may cause patients to leave cardiac rehab programs

Anxiety and depression are common among participants in cardiac rehab programs, and that poor mental health may cause them to drop out, a new study finds.

One in five patients in cardiac rehab after a heart attack or a procedure to open clogged coronary arteries may suffer from moderate to severe anxiety or depression, Australian researchers say.

And one in four of those with moderate depression, anxiety or stress symptoms may drop out of their cardiac rehabilitation programs, according to the report published in the European Journal of Preventive Cardiology.

"Health professionals need to provide extras support for those with co-morbid mental health symptoms to enable them to experience the full benefits of physical and mental health that cardiac rehabilitation programs offer," said lead researcher Angela Rao, a PhD candidate at the University of Technology in Sydney.

"Cardiac rehabilitation programs do refer people to primary care for ongoig management if their psychological symptoms are severe or if people have mental health disorders," Rao said in an email. "However, half of those with moderate symptoms remain depressed, anxious or stressed on completion of these programs and return to their usual environment without additional support."


To take a closer look at the impact of mental health on cardiac rehab patients, Rao and her colleagues studied 4,784 heart patients treated at two Sydney hospitals between 2006 and 2017. All the patients completed mental health questionnaires upon entering the rehab programs.

Nearly one in five, 18 per cent, had symptoms of moderate to extremely severe depression. More than one in four, 28 per cent, had symptoms of moderate to extremely severe anxiety. And more than one in 10, 13 per cent, reported symptoms of moderate to severe stress.

Rehab appeared to improve mental health symptoms for some patients, but nearly half of those with moderate anxiety or depression symptoms did not show significant improvement by the end of the program. "

While both Australian and American cardiology groups recommend that cardiac rehab patients be screened and referred for treatment of depression and anxiety, this advice is often not followed in Australia, Rao and colleagues reported. "Standard screening and referral procedures for depression are not standard practice during hospitalisation, and omission of screening varies between 29-68 per cent in CR programs," they noted.

The new study should serve as a reminder to both patients and their doctors, said Mary Ann McLaughlin, director of Cardiovascular Health and Wellness at Mount Sinai Heart in New York City.

"Physicians should remember depression is a risk factor for cardiovascular disease," McLaughlin said. "In general, we don't screen for depression and anxiety as early as we should."

The finding that 50 per cent of patients still have symptoms after rehab means physicians need to encourage patients to follow-up with a psychologist or psychiatrist, McLaughlin said.